Original poster: fogrizzle
The origins of The Hunted Cow Tippers guild lay in a now inactive guild where the 3 original co-founders met, the guild i speak of is the FAMILY GUY GUILD.
At the time, i was co-founder of this guild and Slope was ranked under me, until one day i finnaly realised what an idiot my founder was, TheSlope realised this too.
After a chat about guild names, TheSlope left FAMILY GUY GUILD and thus founded the legend that is "The Hunted Cow Tippers" on the 15 of April 2008.
Shortly after the guild was founded, i followed suit and settles down to build up The Hunted Cow Tippers.
After my leaving, Fizzgig came along, he was such a cool-cat that we promoted him to co-founder aswell, and since then, the guild has been growing and growing, not only in level, but in community spirit and friendship.
Important and not-so important guild updates:
-The guild capured its first relic on the 6th of june 2008!
22:07 06/Jun/2008 A group lead by Iceweed
has captured the undefended relic Elven Forge (11, 12 - Elven Hideout).
Be sure to defend it to maintain the bonuses for your guild!
-The guild reached it's first major milestone, level 100!
-The guild reached it's second major milestone, level 200!
-The guild reached Top 250 Guilds!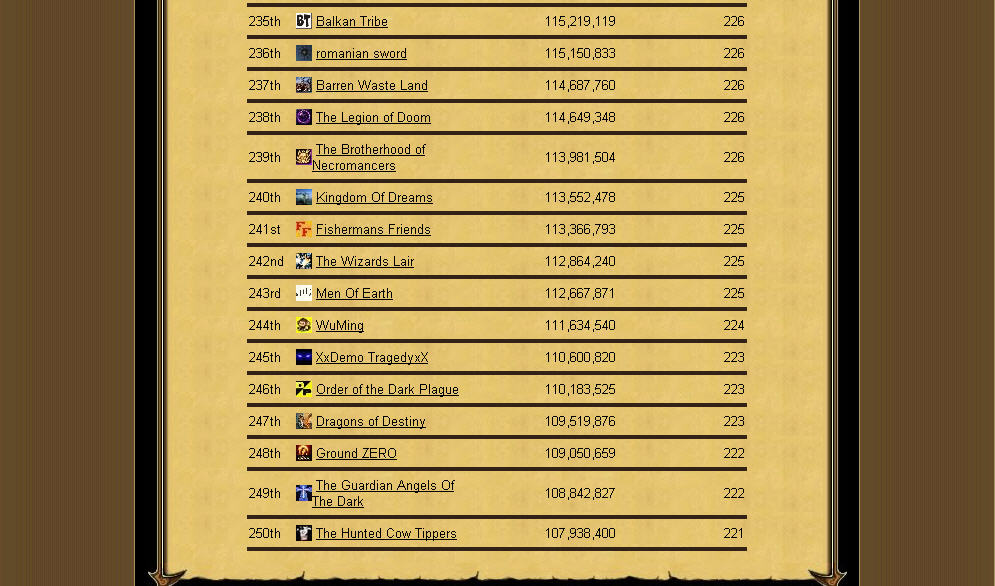 -The guild reached it's forth major milestone, level 300!
Side notes: Iceweed's hunt broke the barrier. TheSlope hit level 200 about an hour before. Navorn got within a few kills of hitting 10M CXP.